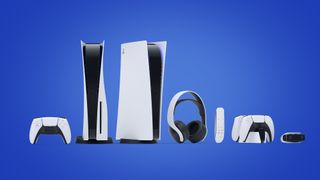 (Image credit: Future)

Click here to refresh this article and find all the latest updates on where to buy PS5. 
The links below show where to buy PS5 when there's a restock, and the good news is that we've seen the new console available every weekday. The bad news is that you'll have to incessantly check the stores for PS5 restock and buy it quickly. 
PS5 Walmart restock is coming online again on Black Friday, November 27, according to the largest US retailer. That's next week. In the meantime, we've seen daily virtual queues at the official Sony Direct store and GameStop hawking bundles.
UK PS5 stock has gone pretty much the same way as we saw it last week in the US. Retailers Very, Currys, Amazon, Game, John Lewis and Studio have all launched their first waves of PlayStation 5 stock, but we're expecting more chances to buy PS5 in the form of restocks in the near future.
We're likely to see more chances to buy PS5 across the world over the next few days, so we'd recommend keeping that refresh button loose and checking in on the quick links below frequently. Retailers like to release their PS5 stock in waves, and to cash in on the next one you'll need to be at the right place at the right time. 
Things will move quickly when the opportunity to buy PS5 does present itself, so you'll need persistence, quick reflexes, and a little luck for this one. 
Where to buy PS5 in the US
If you need to know where to buy PS5 quickly, and chances are you do, you'll find all the latest PS5 stock updates from retailers likely to carry day one units just below. Keep checking these links as you never know when more consoles will hit the shelves. 
Where to buy PS5: quick links
Where to buy PS5 Digital Edition: quick links
So far we've seen the PS5 Digital Edition selling out faster in the US, which is to be expected as it's the cheaper console and sold extremely quickly over the pre-order period. We're bringing you all the latest information on where to buy PS5 Digital Edition just below, so keep checking those links.
Where to buy PS5 accessories in the US
Where to buy PS5: which US retailers will have stock?
Where to buy PS5 in the UK
Check the quick links below to find out where to buy PS5 in the UK today. We've already seen Amazon, Very, John Lewis, Currys, Game and Studio take their stock live but site issues and an incredible demand made it difficult to buy PS5. Keep checking the retailers below, then, because you never know when more units will become available. 
Where to buy PS5: quick links
Where to buy PS5 Digital Edition: quick links
Where to buy PS5 accessories in the UK
Where can you buy PS5 in the UK today?
Where to buy PS5 in Australia
Where to buy PS5 in Canada
How to buy PS5: FAQs
It's not easy to buy PS5 today, so you'll find answers to some of the top questions many shoppers have right now just below. 
How to buy PS5: top tips
1. Find your retailers
The list above will keep you on top of all the latest PS5 stock updates as soon as they come in, but you should keep checking frequently as you never know when more stock will land and you might get lucky.

2. Prepare your wallet
You're likely already steeled against the PS5 price, but you'll want to make sure your retailers know that. Prepare your card and shipping details in a separate page or store them with your retailers of choice for a faster checkout.

3. Sign in
You may already have an account with your favourite retailers, but be sure to sign in ahead of stock. This will steal valuable seconds from your order at checkout and you'll need all the time you can get to buy PS5 today. Plus, you can often save your checkout details with your login (if you're comfortable doing this) and track your order a little easier. We'd recommend making accounts for each retailer offering PS5 stock today as well.

4. Find the product page
You don't want to be left navigating the virtual aisles when the chance to buy PS5 does arrive. We'll be linking straight out to product pages here when stock does land, but if you're going it alone be sure to have the relevant pages queued up for your search. 
5. Don't give up
There's likely to be plenty of chances to buy PS5 in the UK today, though you'll need to be quick. If you come up unlucky however, keep refreshing the retailer's page – we've seen stock return for quickfire refreshes in a matter of minutes in the past so you don't want to give up at the first hurdle.

When will you be able to buy PS5?
Retailers have announced certain launch times when you can buy PS5 today, with the next drop due at Amazon at midday. We'd keep checking in until then, as we've already seen the 9am slot go live with John Lewis and Studio and Currys took to the shelves even earlier this morning. 
Will there be more chances to buy PS5?
If you missed out on launch day itself, don't panic. We've seen more Xbox stock launching after Microsoft's own initial launch earlier in the week, so it's likely retailers will offer up more chances to buy PS5 over the coming days. These opportunities will all be equally competitive, however, so you'll want to stay tuned for the latest updates right here. 
Should you buy PS5 today?
With stock looking low and delivery dates being pushed back, it's worth wondering if you need to buy PS5 today. In general, we would say that the earlier you can get your hands on Sony's next generation console the better. We don't know what stock is going to look like for the next few months so the sooner your delivery date (however delayed that might be from today) the better. 
However, if you're after bundle deals and can hold off, you might want to think about buying PS5 when stock settles down further into the new year. 
What is the PS5 price?
The PS5 price is $499 (£449 / AU$749.95). That puts it at the same price point as the Xbox Series X, but that shouldn't come as a surprise to many, seeing as it's difficult to imagine the PS5 price exceeding $500 when it's up against the affordable spread put out by Microsoft.
However, the cheaper PS5 Digital Edition price is $399.99 (£359.99 / AU$599.95), which does flag some concerns considering the Xbox Series S's $299 price tag. However, the PS5 Digital Edition will run the same specs as the fully-fledged console, further cementing its position in the market as a high value for money option. 
That means bargain hunters can still experience everything the PS5 has to offer while foregoing the opportunity to play physical PS4 and PS5 games or save cash by buying in the second-hand market. It's an excellent proposition that will certainly capture those going for sheer value for money at launch.
Should you buy PS5 or PS5 Digital Edition?
You can buy one of two version of the PS5 today – the standard disk version, or the Digital Edition. The former allows you to play your physical PS4 and PS5 games, however you can still access your downloaded PS4 titles on the Digital Edition as well. 
The cheaper £359 PS5 Digital Edition doesn't have a disk drive, but still runs the same specs as the full fat console. That means you can buy PS5 for less today and you'll still be running the latest tech from Sony. 
However, there's only 825GB in this SSD and that's going to fill up quickly, provided you don't grab an external HDD for your PS4 games. If you've got a substantial physical collection already then it might be worth upgrading to the main console. 
That said, it's difficult to buy PS5 either way right now, with launch seeing an incredibly limited number of consoles hitting the shelves. While we wouldn't necessarily advise settling for the console you can get (there's going to be more chances to buy PS5 in the future, and it's a lot of cash to be taking second best with), if you're set on buying PS5 today you might have to take what you find. 
You'll need some new gear when you do buy PS5 – check out the best PS5 accessories, all the latest PS5 games, and our review of PS5 Pulse 3D headset.